Prince's Landscape Maintenance Service
Equipped with the manpower, knowledge, and experience in plants,
garden, lawn and landscaping maintenance, Prince's offers you the
assurance of a stunning, lush landscape. Our clientele includes hotels, clubs,
condominiums, commercial complexes, government buildings, hospitals
and healthcare centres, theme parks, etc.
We were awarded the Landscape Industry Association Of Singapore (LIAS)
Awards for Excellence in 2019 in recognition of our quality landscaping
services, and are committed to providing the best result for our customers."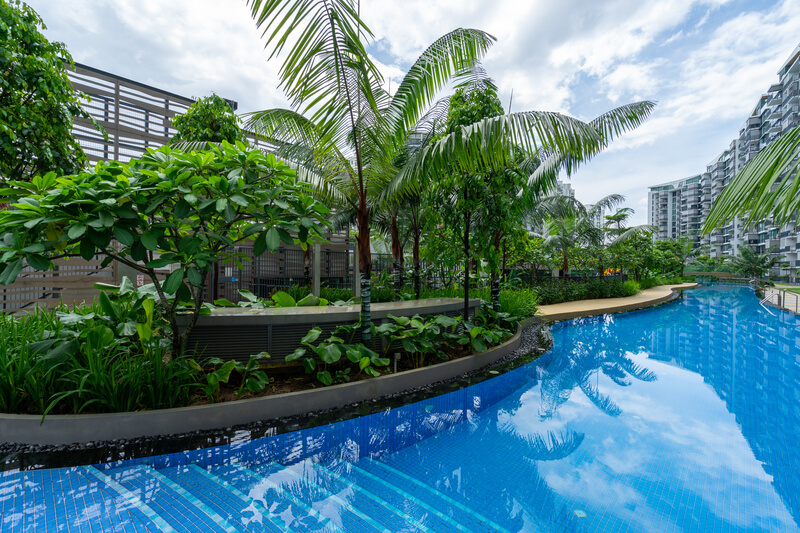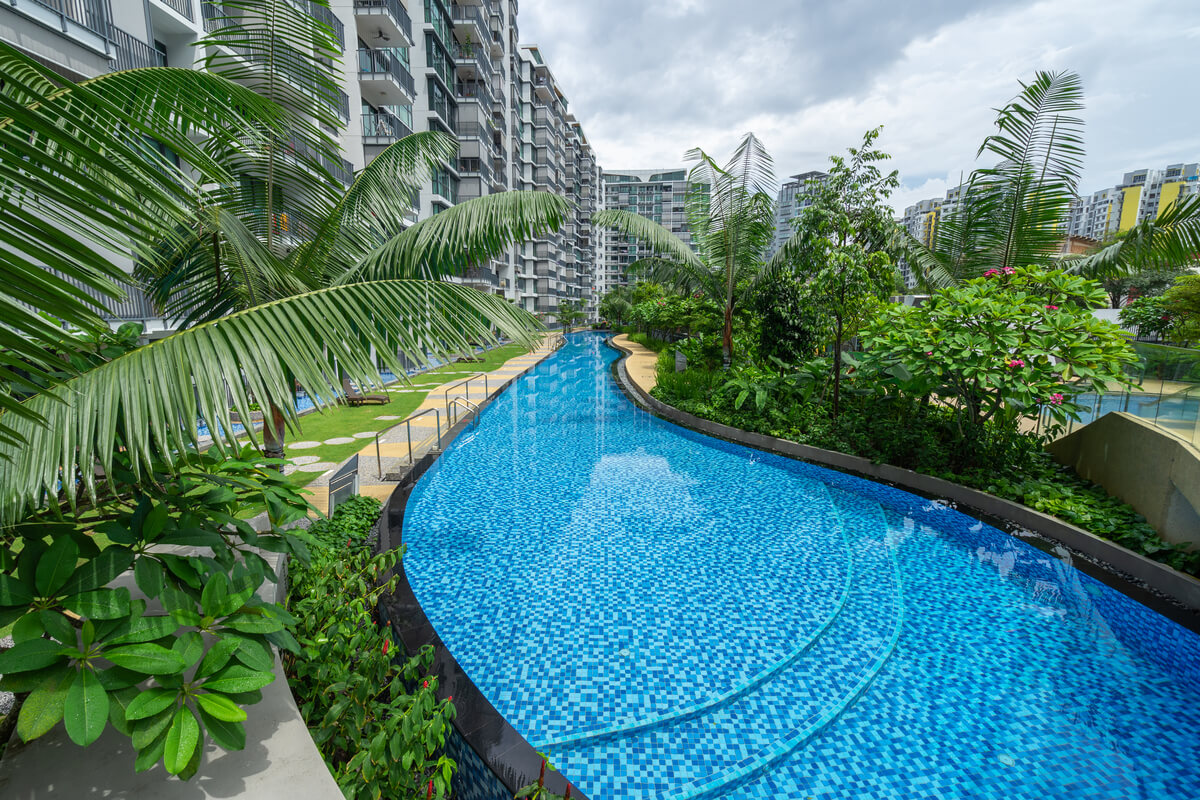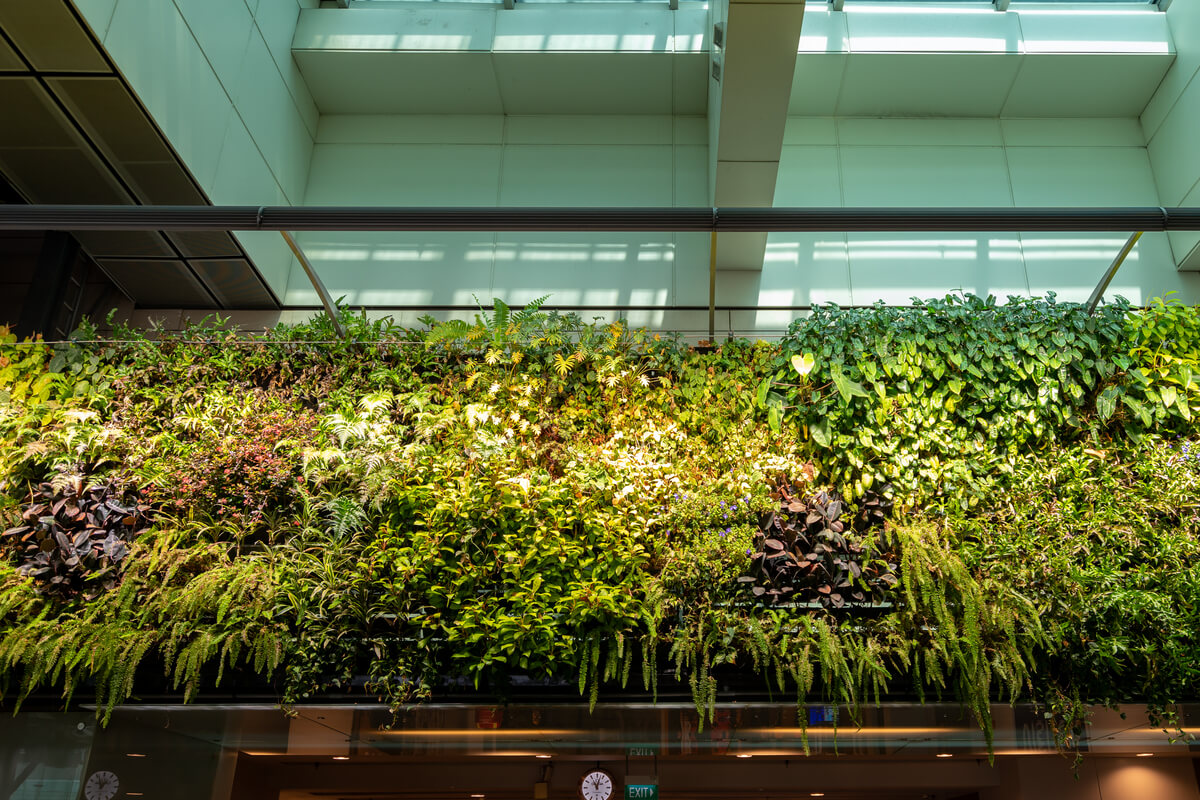 Best landscape maintenance services in Singapore
Do you want to preserve and enhance the nature beauty of your residential or commercial space? Whether you live in the heart of the garden city, we offer a wide array of landscape maintenance services in Singapore for the regular upkeep of your vibrant green zones. In addition to routine maintenance, our landscape maintenance services also include tree care, soil management, arboriculture and more.
Commercial & Residential Landscaping
Prince's landscaping services have been in the industry for
more than 50 years. Our array of projects includes
governmental, residential, industrial and commercial. We
work closely with building developers, architects,
engineers, government agencies, contractors, managing
agents, and owners. For more information, click here.
Gardening Service Singapore
Gardening services include the usual pruning of shrubs,
groundcovers and trees, watering, fertilizing, and
ensuring optimum health of plants. Our team regularly
goes through rigorous training and development to
ensure that we only provide quality services our
clients deserve.
Why Should You Go For Landscape Maintenance Services?
Landscape design and maintenance include a wide array of tasks that can be daunting regularly. You need to hire landscape maintenance services because professionals know how to bring their A-game on. Seasoned landscape companies can offer services such as:
Lawn maintenance including tasks such as mowing, grass cutting, edging and trimming the grass to maintain neat and manicured lawn aesthetics.
Plant care in gardening services in Singapore with tasks like pruning, trimming, and shaping trees, shrubs, and hedges to promote healthy growth and maintain desired shapes.
Flowerbed maintenance including weeding, mulching and planting seasonal flowers.
Irrigation system management involves maintaining and monitoring irrigation systems to prevent water wastage and ensure proper watering.
Implementing weed and pest control measures and applying fertilisers.
Soil testing and management to create an optimal growth environment
Seasonal cleanup including removing fallen leaves, debris and other clutter.
Tree care services like pruning, tree felling, trimming, etc.
Landscape design services including pond maintenance and vertical green wall installation and maintenance.
Artificial grass installation and management.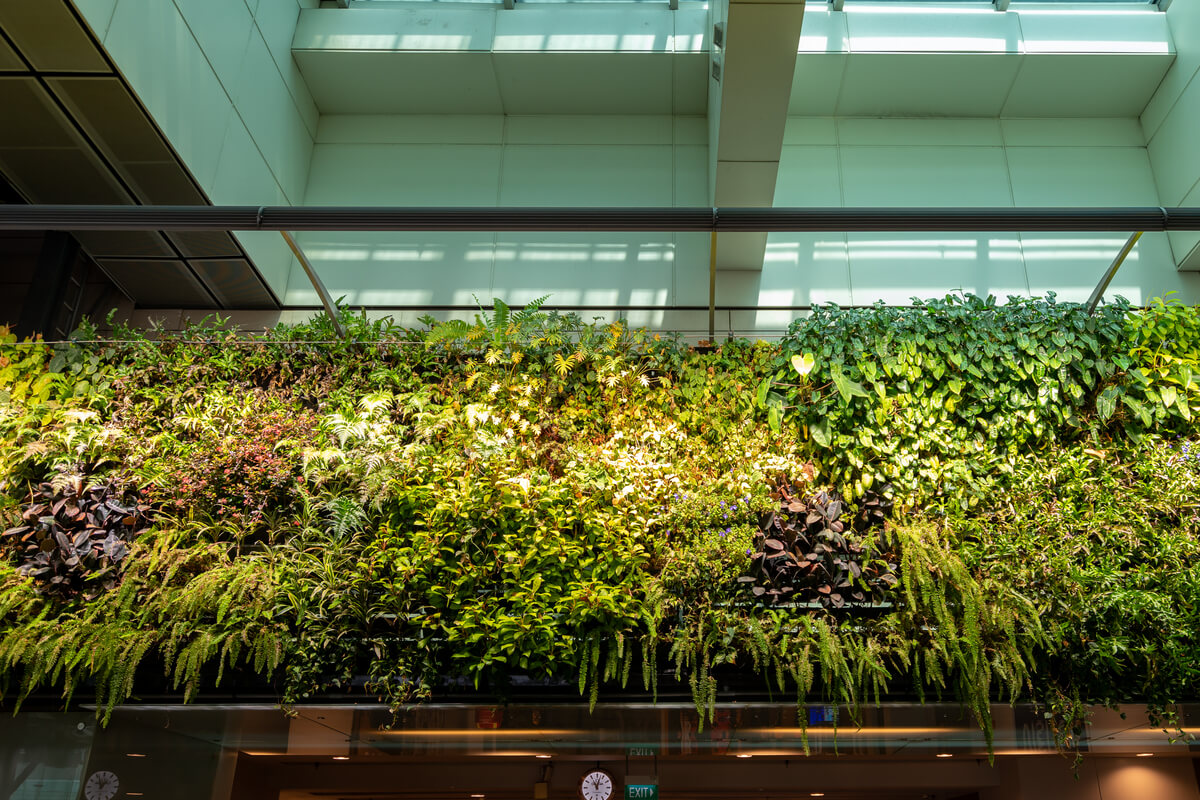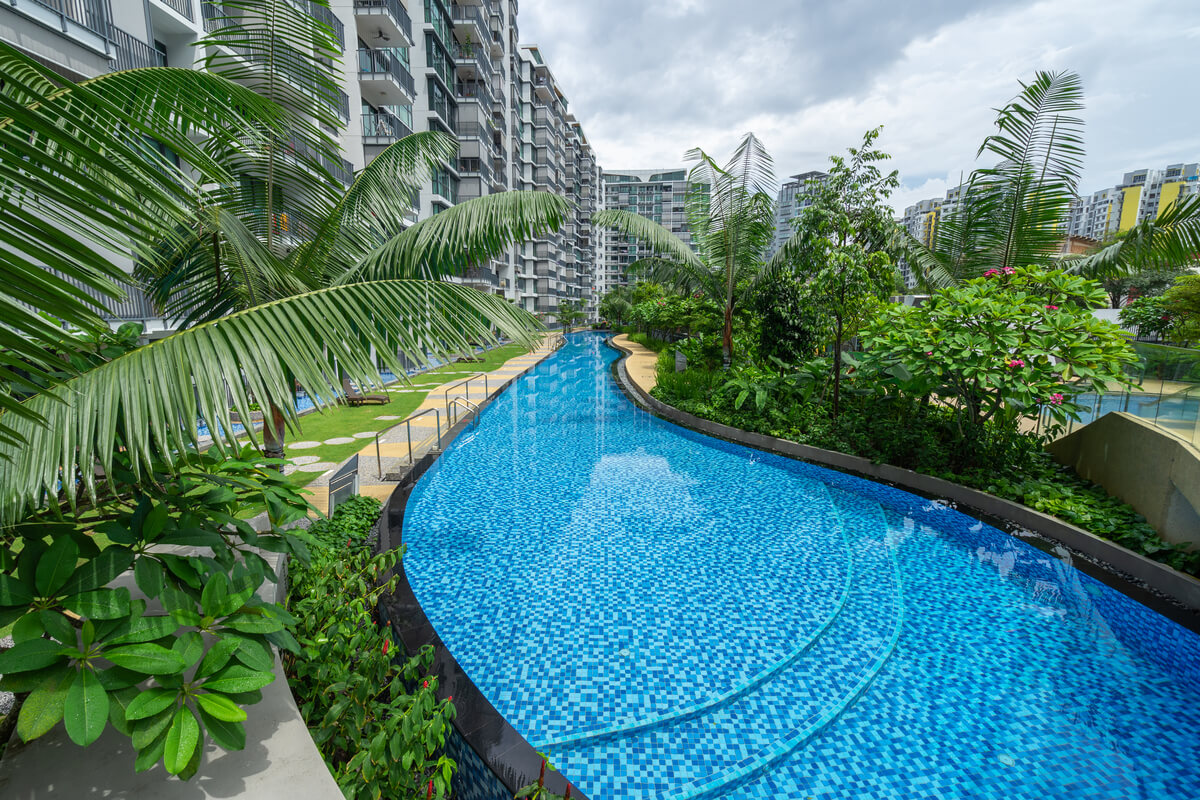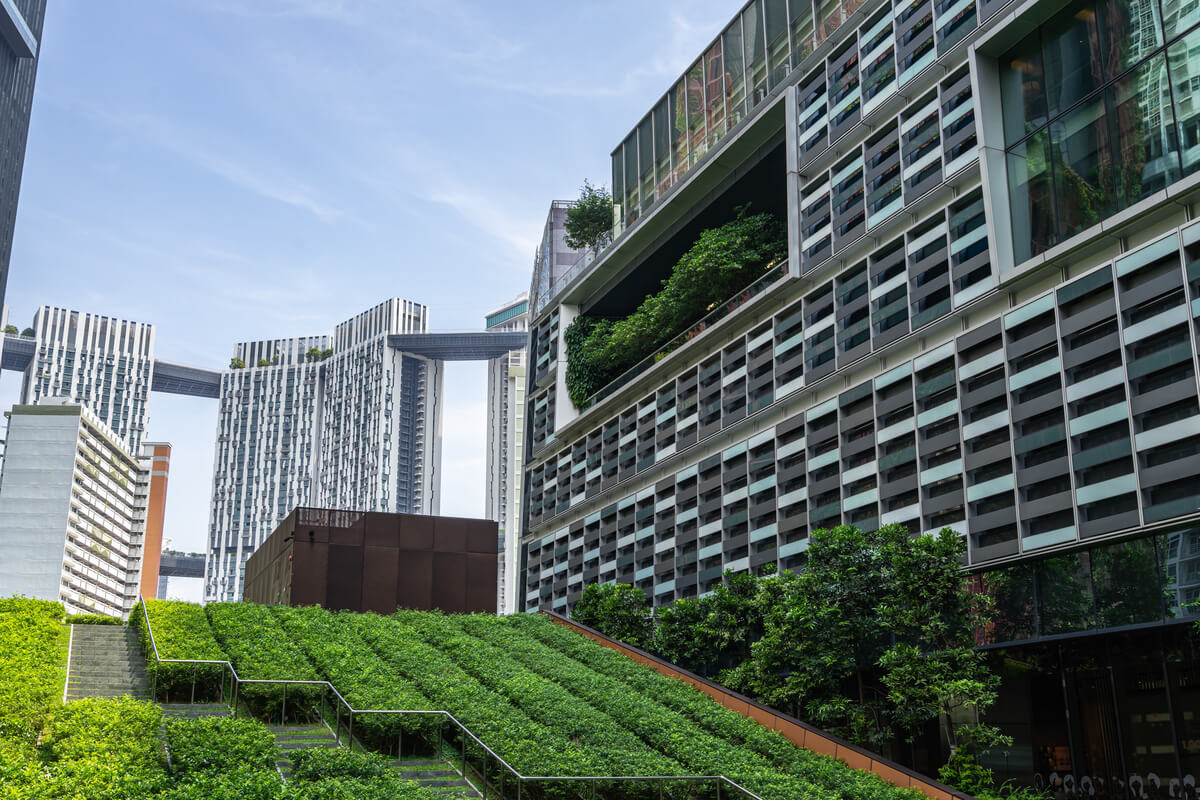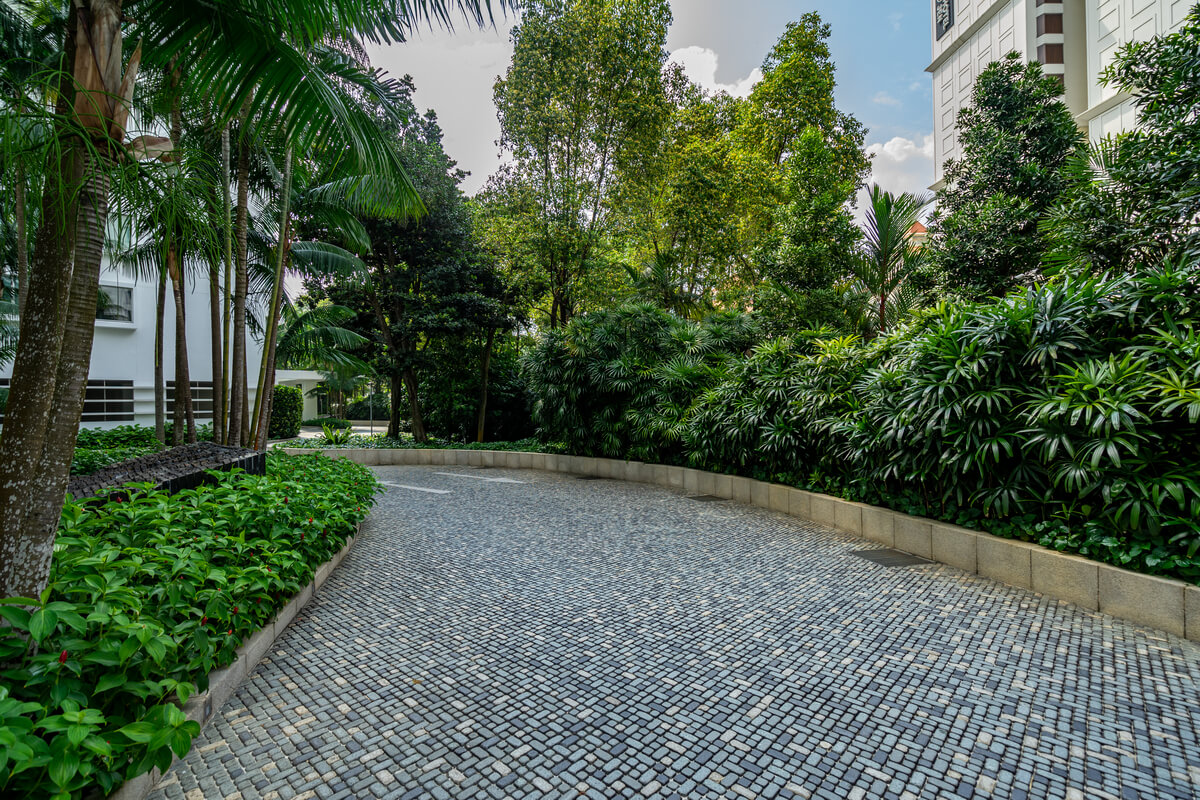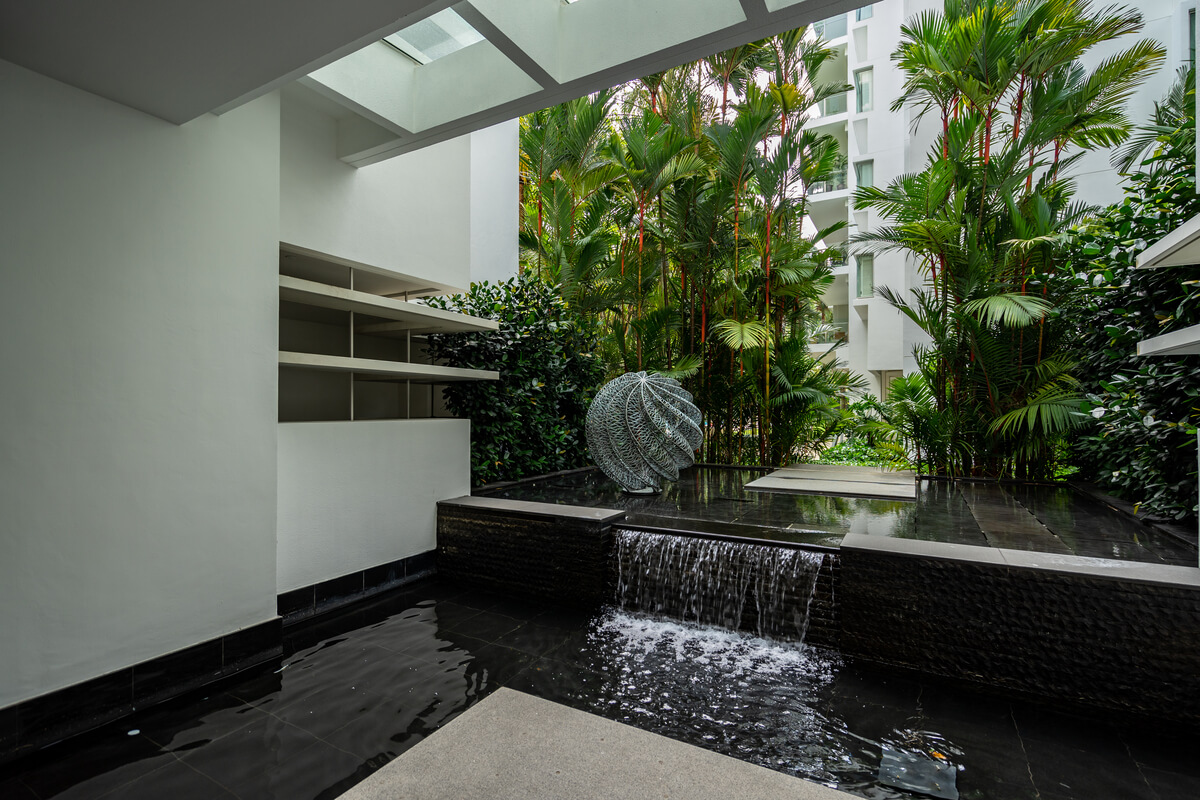 Importance of landscape maintenance services
There are many benefits of reaching out to professional landscape contractors for landscape and gardening services. Some of them are listed as follows:
Enhanced curb appeal: Regular maintenance ensures that your Landscape looks well-kept and visually appealing, making a positive impression on guests and passersby.
Time-saving: Hiring professionals allows you to focus on other important tasks while they handle the time-consuming and labour-intensive work of landscape maintenance.
Expertise and knowledge: Landscape maintenance services employ professionals who have extensive knowledge of plants, horticulture, and best practices, ensuring that your Landscape receives the proper care it needs.
Healthier plants: Professional care from Singapore gardening services includes proper pruning, fertilisation, and pest control, promoting the health and longevity of your plants and trees.
Cost-effective: Regular maintenance with landscape maintenance services helps prevent major issues and costly repairs in the long run by identifying and addressing problems early on.
Sustainable practices: Landscape maintenance services can implement eco-friendly practices, such as water conservation techniques and organic pest control, contributing to a greener and more sustainable environment.
Less stress: Outsourcing maintenance tasks to the leading garden maintenance companies alleviates the stress and physical exertion associated with maintaining a landscape on your own.
Considerations While Hiring Landscape Maintenance Services
Here are some factors you need to consider before selecting landscape maintenance services. These include:
Reputation: Look for companies with a good reputation and a proven track record in providing quality landscape maintenance services.
Services offered: Ensure that the company provides the specific services you require.
Professionalism: Consider the company's professionalism, communication skills, responsiveness, and ability to meet deadlines.
Contract and pricing: Review the contract terms, including pricing, frequency of service, and any additional charges or conditions.
Customisation and flexibility: Determine if the company can tailor their services to your specific needs and accommodate any special requests you may have.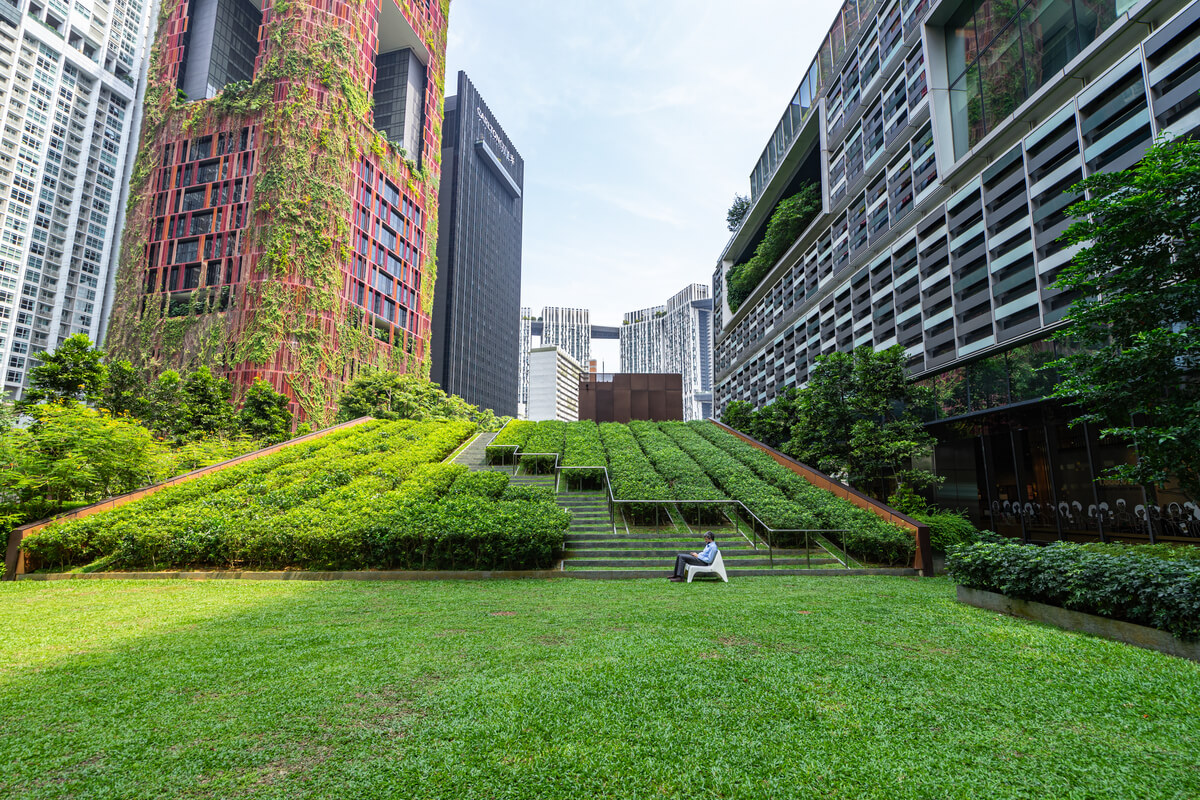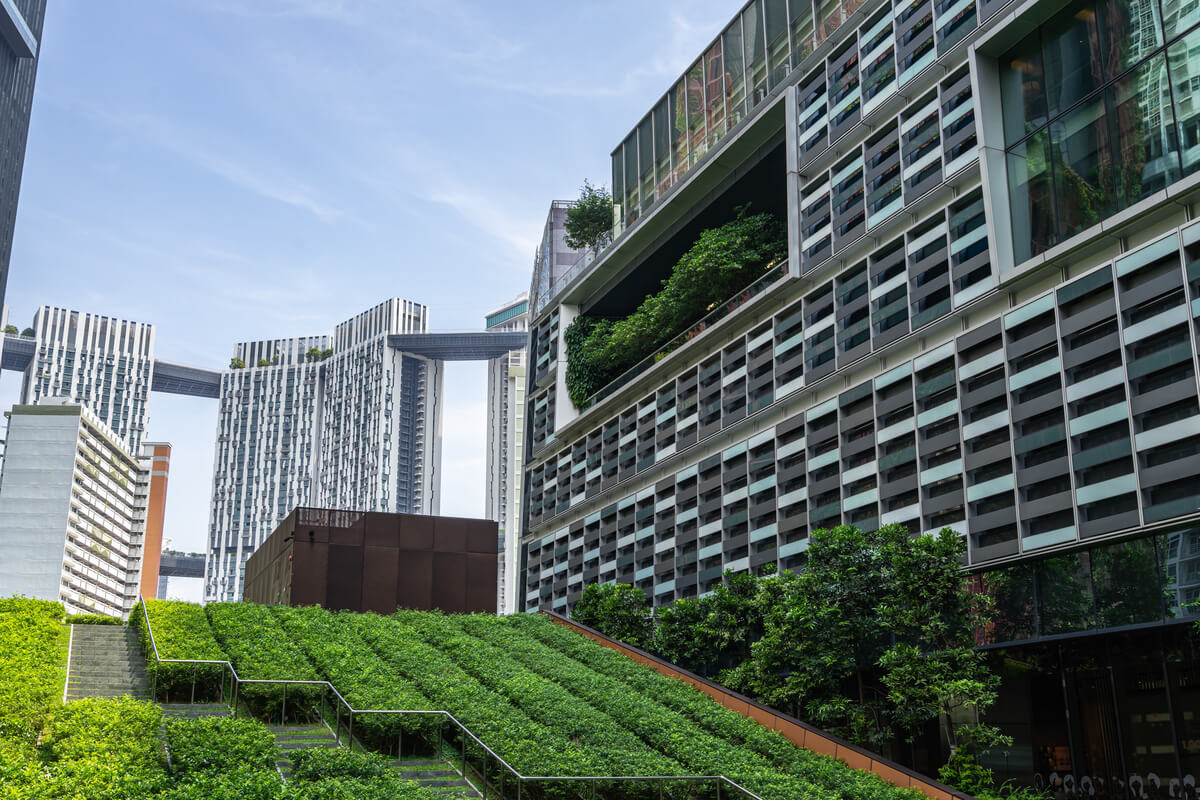 Why choose us for landscape and garden maintenance services in Singapore?
With years of experience in professional landscaping, we ensure you get the best of what you pay for. Whether you need commercial landscape maintenance services or landscape services for your residential property, rest assured our professionals can undertake the work and complete it flawlessly without any setbacks.
Need more information about garden maintenance and landscape services? Drop us a line now!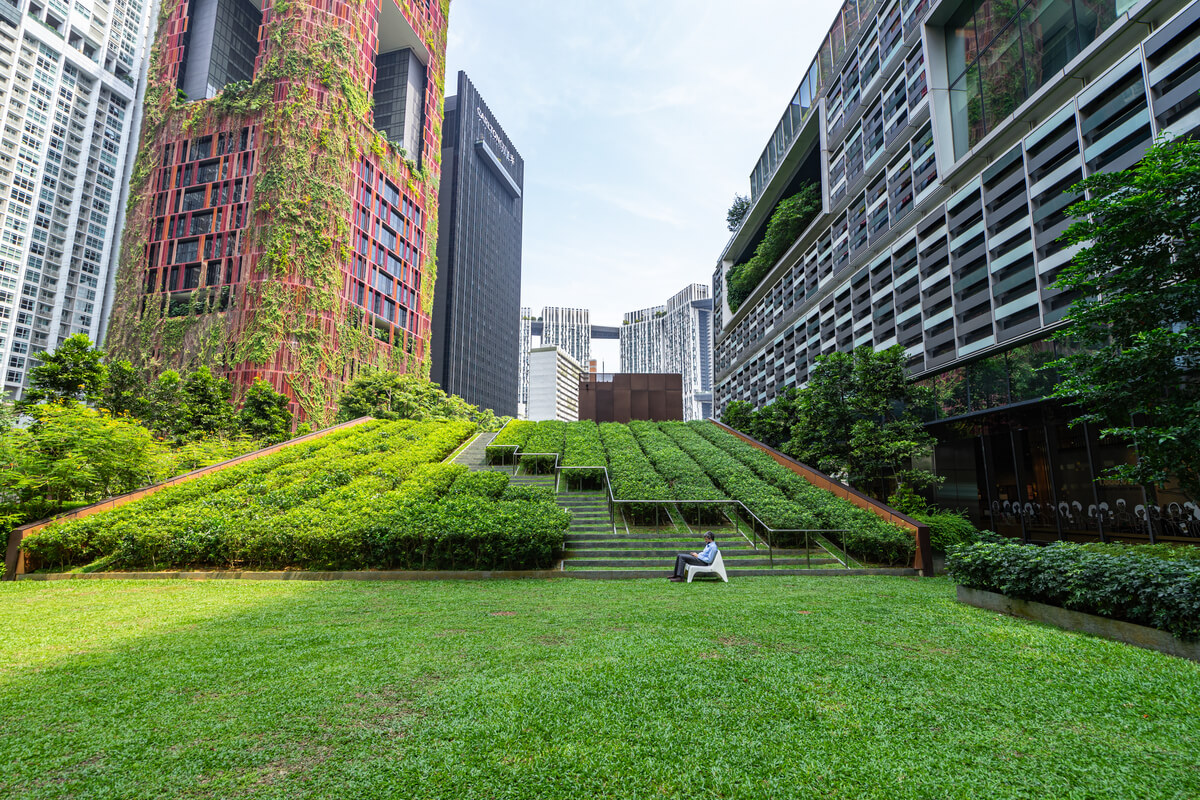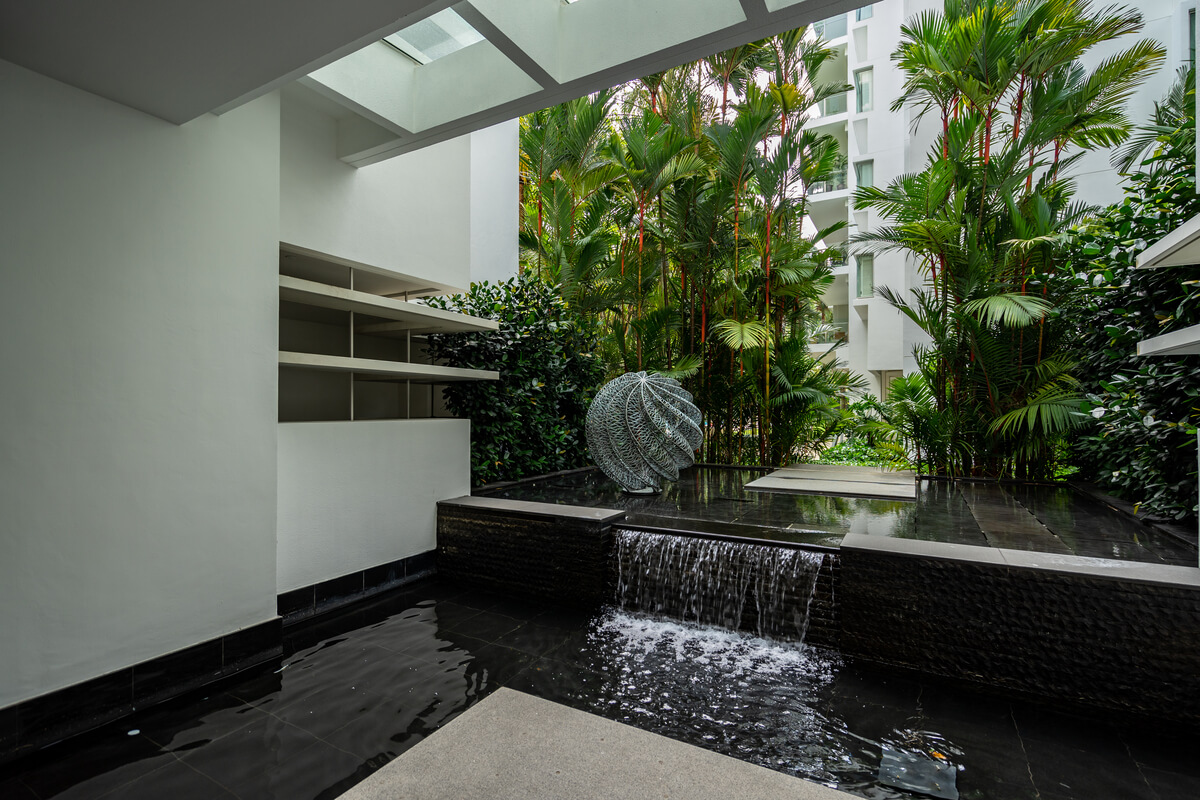 TreeCare As A Service (TAAS)
An Arborist shall provide a visual survey on the estate's existing tree/s and provide recommendation/s on the works
required and execute based on the stated description. An interest-free instalment plan of 6, 12, or 24 months is available
for contracts above $5,000.00.
4-Phase Program
LANDSCAPE MAINTENANCE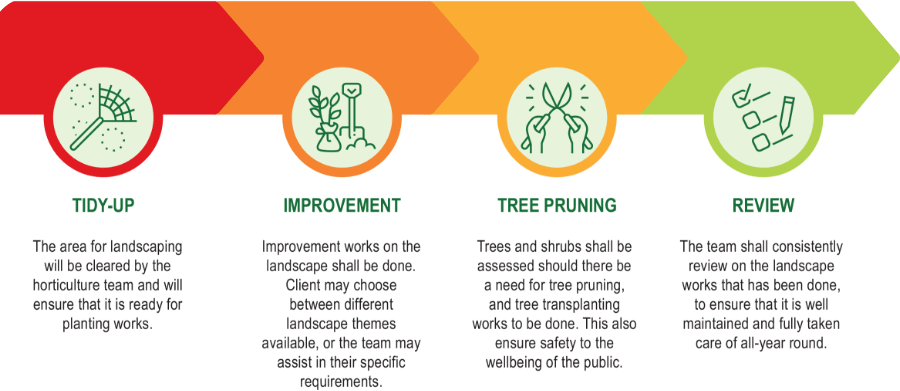 Tree Pruning, Cutting & Tree Transplanting Services In Singapore
Quality Tree Pruning And Tree Cutting Services
At Prince's Landscape, the main focus of our tree pruning services lies in amenity trees and hazard trees. Amenity trees are trees that are maintained primarily for landscape purposes for the benefit of human beings. In contrast, hazard trees are usually urban trees with structural problems which pose a potential hazard to life or property.
Prince's can evaluate your trees to improve their aesthetic value or identify potential hazards and make recommendations for their maintenance or removal.
Our services include pruning, cleaning of crowns, removing tree and root growth, repairing damage, clearing fallen trees, repairing turf, guying/ staking, mulching, top dressing, pest control treatment, etc.
If you require tree pruning, cutting, transplanting or removal services in Singapore, or if your trees require attention, come to us, and we will provide you with our TreeCare+ service!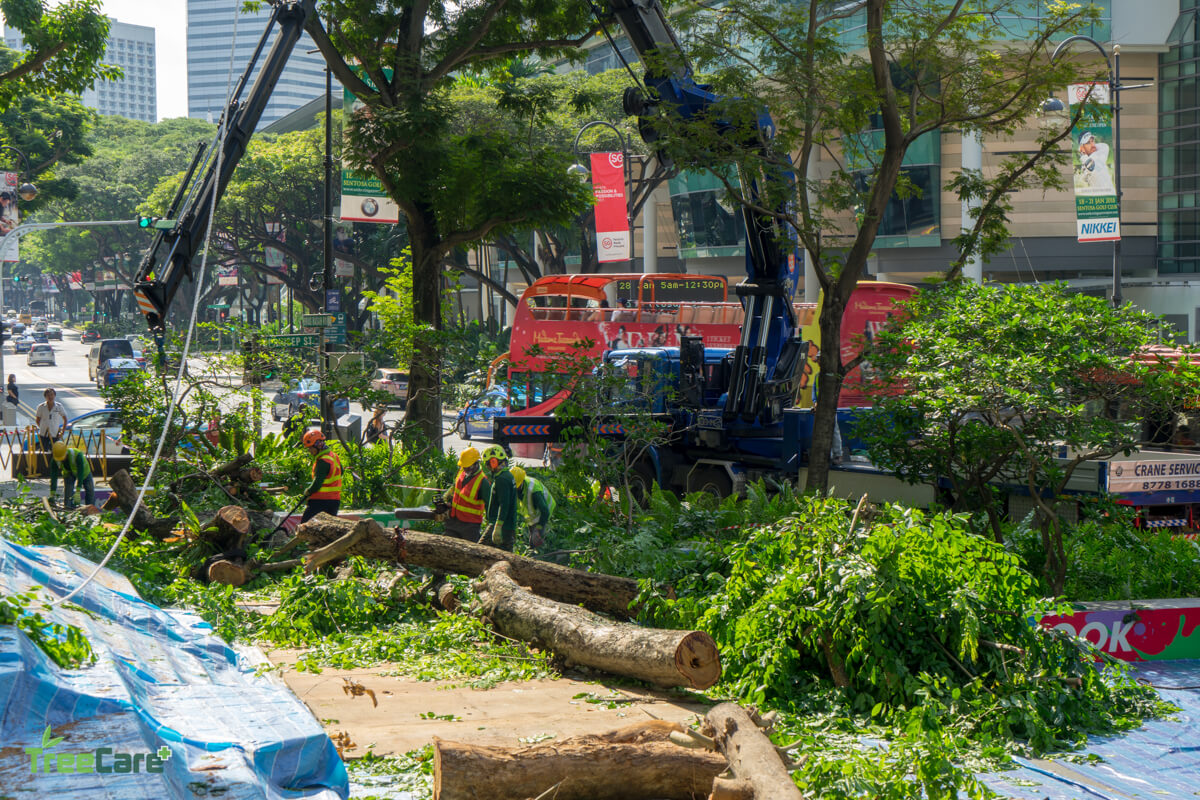 Professional Tree Transportation Services
With the congestion of residential and business districts in Singapore, trees play an important role in our environment, adding greenery, raising aesthetic values, and improving economic benefits in the country.
In the government land sector, it's a 'must' to have healthy trees in the parks and urban areas for public safety, to improve the country's natural beauty and create balance in the ecosystem. In addition, it is pivotal that the trees are well taken care of during transportation.
Safe Tree Pruning Services
Tree pruning involves a great deal of risk. Moreover, with unpredicted heavy rainfall, professional aid in treating and transplanting affected trees to prevent accidents is more important than ever.
At Prince's Landscape, we have a team of certified tree pruners with the skills and experience to safely prune the trees.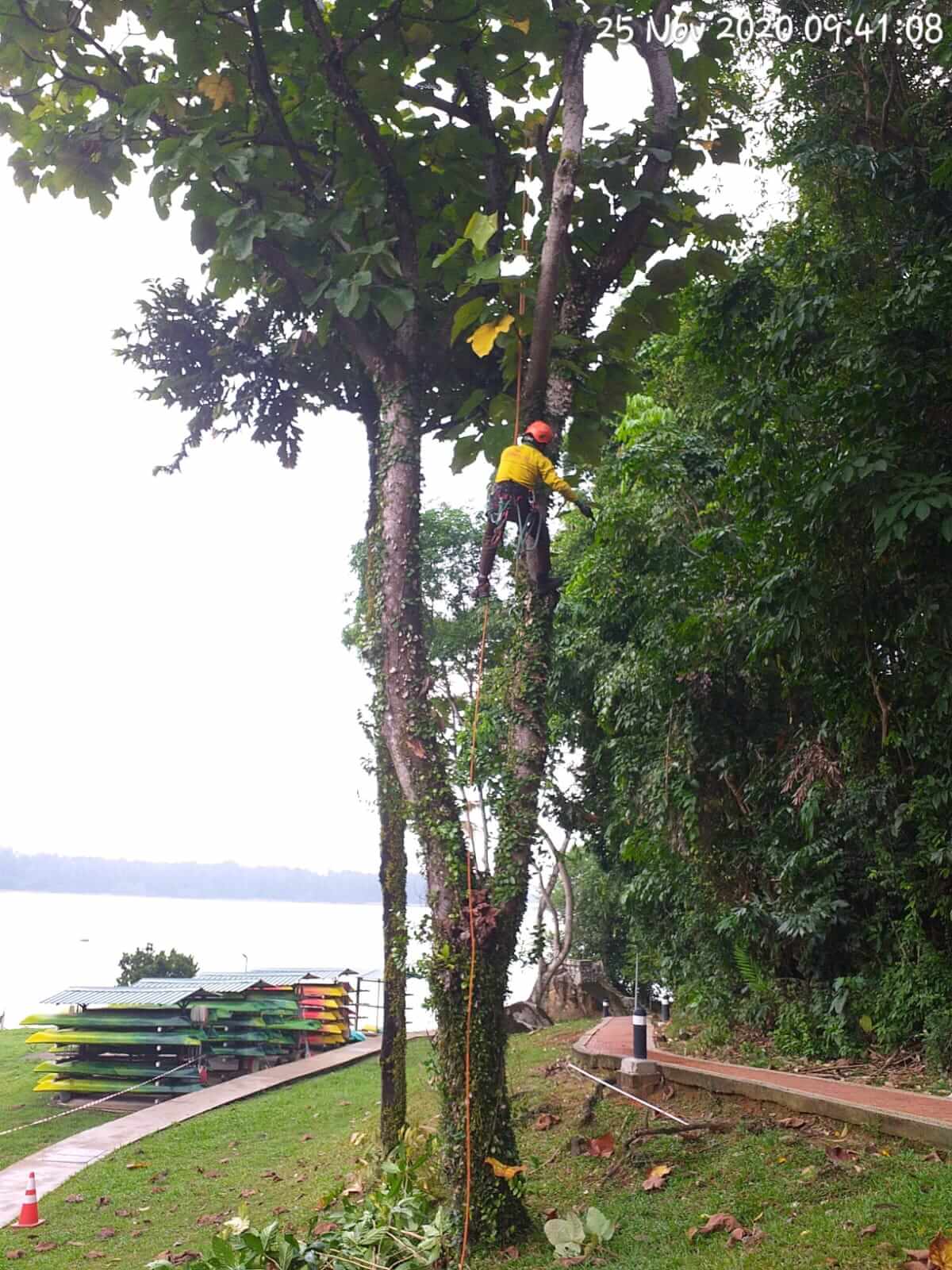 Reliable Tree Transplanting Services
Tree transplanting is a formidable task. A dedicated and well-equipped team must ensure each tree gets transplanted safely. Before the tree is transplanted, light and hard pruning, pollarding, and crown reduction may be necessary.
At Prince's Landscape, we ensure that the survival rate of each tree is carefully evaluated and that every operation and procedure is carried out based on careful considerations and meticulous assessments of the tree's conditions.
Additionally, we follow a strict process to ensure every tree transplanting case succeeds, with the trees having a 98% survival rate. After the tree has been rootballed, it is burlapped with a gunny sack, wire basket, or fibre net. This will minimise damage during transportation.
With proper machinery and equipment, a mobile crane is used to lift the prepared tree for installation and planting.
Our commitment to successful tree transplanting goes even beyond tree care maintenance.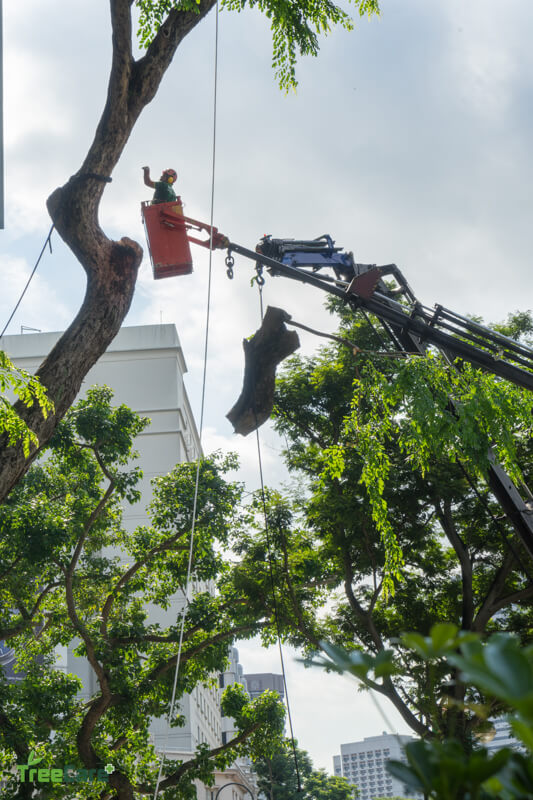 24/7 Emergency Tree Removal Services
Prince's Landscape offers 24/7 emergency tree removal service. Our team is always on standby, especially in the event a fallen tree needs to be removed and is causing danger to the public. Contact us for more information on our emergency tree removal service.
For more information, view our brochure HERE.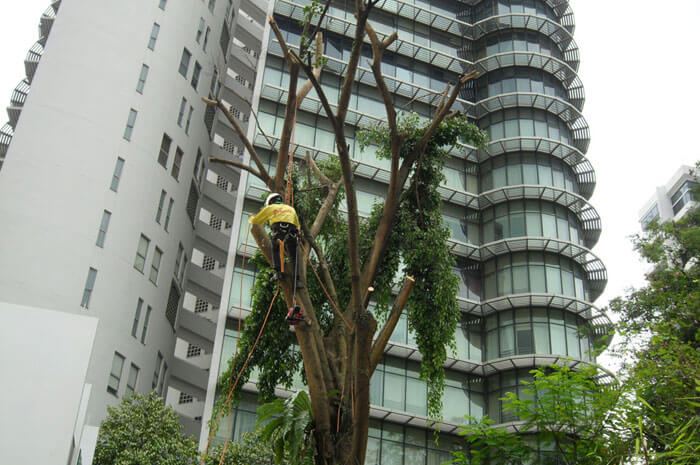 Portfolio